I recently bought these brushes in boots when they were on offer (buy 1 get 1 half price) and I haven't used anything else since! I bought both the limited edition
Duo Fibre
set and the
Core Collection
set.
My favourite of the two would have to be the Core Collection, but I've been using both daily!
Core collection: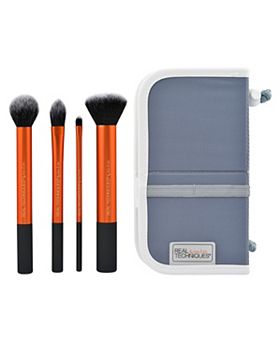 The
buffing brush
has officially replaced my beloved MAC 187 stipple brush for applying foundation! I adore it! It gives such a flawless airbrushed finish and simply does not shed. I apply my liquid foundation in circular motions with this and my makeup takes less time then ever before. This is definitely a must have. The compact rounded bristles are soft yet firm on your face and don't seem to hold and waste much product. This is definitely my favourite from the collection.
The
Contour Brush
does exactly what it says on the tin! Like the buffing brush it has soft well compacted bristles allowing for as light or heavy a contour you like, easily blending out the powder. The tapered head is great for smaller areas (side of nose etc).
I haven't really used the
Pointed Foundation Brush
much yet, as it is much too small to actually apply foundation with IMO, but again it's nice and soft and I've used it for touch ups on smaller areas. Not a necessity but a nice brush all the same.
I prefer to apply concealer with my fingers for warmth and blending, so I've mainly used the
Detailer Brush
to apply eyeshadow along the upper or lower lash line. It is small enough to create a thin smudged line, perfect for a smokey eye!
This set also comes in a very handy holder that doubles as a stand!
Duo Fibre Collection: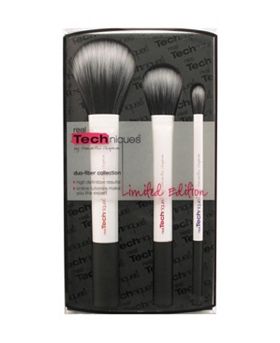 My favourite from this collection would probably be the
Duo Fibre Face Brush
as it is perfect for applying a light layer of powder to set your foundation without loosing the dewy finish. Before this I was using a powder brush from the body shop (which I also love), but it always applied a little too much powder. I still use the body shop brush on my t-zone, and the duo fibre on the rest of my face where I wouldn't need the oil control.
I've mainly used the
Duo Fibre Contour Brush
to apply powder highlighter, as it isn't really something you want to overdo and this brush again is great for light dustings of powder products. Wouldn't be an everyday use for me, but I do like it for highlighter.
For everyday eyeshadow application the
Duo Fibre Eye Brush
is a go-to. It's perfect for even application of colours across the lid, or a base shadow. I wouldn't use it much for any detailing or crease shadows as its a very light brush, so best used for sweeps of colour!